Allonby Bay hugs the coast into the Solway Firth and includes two extremely important areas for marine life, Dubmill Scar and Maryport Roads. The area is highly diverse containing many different species of sponge, soft coral, seaweed, sea squirt, anemone and the reef-building honeycomb worms which is at its most northern extent.
Honeycomb worm (Sabellaria alveolata) reefs are a key feature of the northwest coastline, and play a vital role as a home to other species, allowing settlement in areas which would otherwise be shifting sediments. These living reefs are made up of millions of worms that form tubes from tiny grains of sand and shell, grow side-by-side. Allonby Bay contains some of the best examples of reef in the UK. Let's make sure we protect it for the future!
The living and rocky reefs here provide microhabitats that support a wealth of species from sponges, crabs, lobsters and anemones to an array of seaweeds. Subtidal sands and gravel habitats are important spawning and nursery grounds for plaice, skate and thornback rays, and harbour porpoises are often spotted here and are thought to pup in the area!
As a coastal site, Allonby is also particularly important to the local community and visitors who use the area for recreation, from walking to kite surfing.
Breadcrumb sponges and baked bean sea squirts live here. Now all we need is a bacon barnacle for a full fry-up!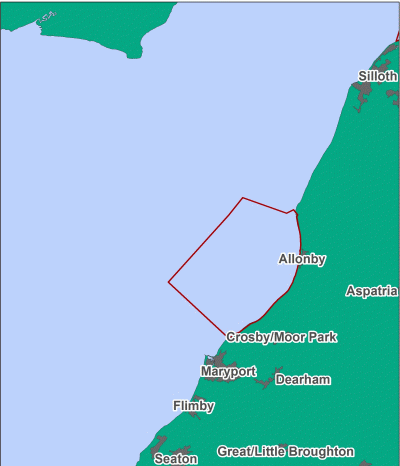 Other Marine Conservation Zones nearby