We all need healthy seas
My Local Catch is a marine awareness project based in Whitehaven, working with local fishermen using low-impact fishing methods, coastal communities, suppliers, retailers, schools and youth groups, to raise awareness of the benefits of locally and sustainably-sourced seafood in the recovery of our seas.
Overfishing is one of the biggest challenges facing our seas, with trawl fishing accounting for more carbon emissions than the entire aviation industry. Two thirds of global fish stocks are classed as "overfished" and around 10% classed as "collapsed". High bycatch rates, habitat destruction and lack of prey contribute to the damage caused to marine ecosystems. But that doesn't mean we have to stop eating fish all together... 
Supported by The National Lottery Heritage Fund, My Local Catch aims to show how small-scale, sustainably caught, seafood can form part of our diet, and help in the recovery of our seas and coastal communities.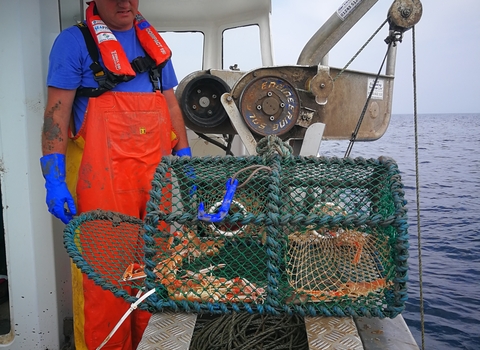 Local catch for local businesses
We are working with innovative small-scale fishermen to develop static, selective, fishing methods as sustainable alternatives to trawling, and with restaurants and suppliers to source high quality sustainable catch which reduces food miles, protects wildlife, and benefits local communities.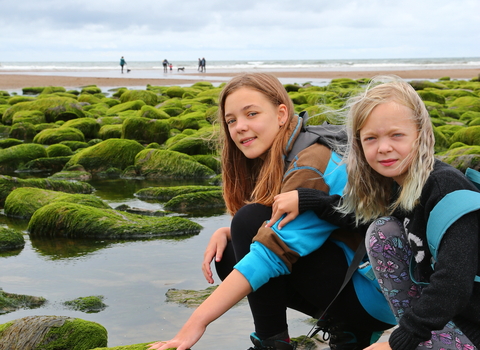 Youth empowerment
The future of marine conservation and sustainable fishing in Cumbria lies with the inspirational young people growing up here - so we're working with schools and youth groups to help raise awareness about the need for healthy seas to support healthy fisheries.
We will be helping them learn about Cumbria's amazing marine life, local catch, and ways they can explore careers in the marine sector.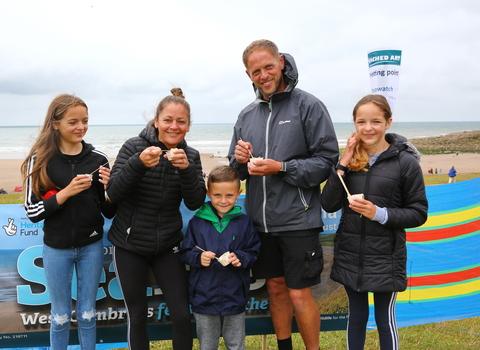 Access and awareness
The best part about living by the sea is being able to get out on the coast exploring the local wildlife; we are working with local communities to explore sustainable seafood and marine wildlife through a range of events, including food festivals, wildlife surveys, and beach days for coastal explorers of all ages!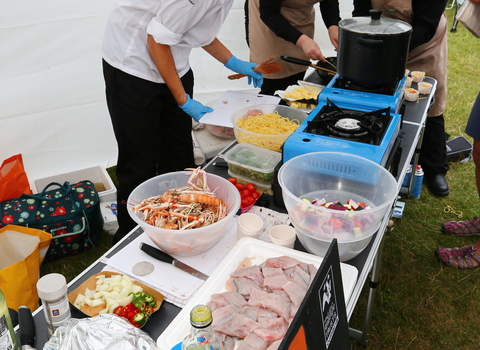 Cooking up a storm
One of the biggest barriers people face to diversifying the fish they eat is understanding how to cook it - so we're heading out with top local chefs to show Cumbria that cooking seafood can be easy, sustainable, and delicious!
Look out for our demonstrations and tasters at local food festivals, coastal events, and online masterclasses...
Want to try for yourself?
Here's just a few of the fantastic recipes from our demonstration chefs John Crouch and Emma Donoghue, to help you to cook sustainable seafood from the comfort of your own home, using delicious local seafood caught by wildlife-friendly methods. 
What species are we protecting?
Sustainable fishing is an essential tool for protecting our muddy undersea landscape and our incredible local marine wildlife. By reducing pressure from trawl fishing, we are working to protect a whole range of incredible wildlife who rely on the rich subtidal mud.
Here's just a few of the species who will benefit...
Get involved!
Here's a few ways you can support My Local Catch and learn more about sustainable fishing in Cumbria: 
Buy local sustainable seafood

Wherever you can, buy local. Around 80% of fish caught in the UK is exported, and 80% of the fish we consume is imported, so let's give the local economy a boost and support our fishing community- before we lose it. 
Ask your fishmonger for creel/pot-caught, line-caught, or hand-dived seafood, as these methods are selective and have much lower impact on the wider marine ecosystems than trawling or dredging. The more we ask for it, the more businesses are likely to source sustainably.
Volunteer with us

Whether it's assisting at events, supporting our research and monitoring programme, or finding local seafood outlets to build our directory, there are many different ways you can help out...

We currently have two volunteer roles in the Whitehaven area; one as an Events Volunteer helping to run our exciting programme of activities, and one as a Project Volunteer getting involved in all areas of the project, and even running your own mini-projects, depending on your interests and preferences. All experience levels are welcome, and we will provide all of the training and support you need!

Project Volunteer opportunity Events Volunteer opportunity

Register as a volunteer in Cumbria and mention the role you're interested in, or contact Lucy directly to find out about upcoming opportunities.
Look out for events near you

Tasty treats at your local farmers market, cooking classes with top seafood chefs, or family fun at our annual festival of the sea; we are running an action-packed programme of events across West Cumbria. 

Keep your eyes peeled, and we hope to see you there!
For more information about My Local Catch, please contact our Project Officer, Lucy Mather: