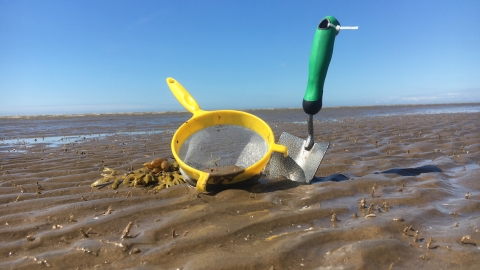 Home to more than 450 wild plant species and precious wildlife including great-crested newts and red squirrels, Ainsdale Beach is the perfect day out for wildlife enthusiasts and families alike.
Know before you go
Parking information
Parking available, with charges applicable during summer season
Dogs
Dogs permitted
Dogs are permitted on the beach, with the exception of a dog-free zone 200m either side of the main beach entrance down to the tide line.
When to visit
Opening times
Open all year round
Best time to visit
March to September
About the reserve
What makes Ainsdale Beach so special?
The dunes behind the beach are home to more than 450 wild plant species including dune helleborine, seaside centaury and yellow bartsia. Wildlife includes great-crested newts, sand lizards and natterjack toads as well as many species of birds, butterflies and insects. Behind the dunes is a pine forest where you might spot red squirrels.
The beach is located south of the Ribble estuary and is long and flat, with sand so compact that people were allowed to drive along the beach to Stockport until the 1970s.
This is a popular family beach, which has the oldest iron-built pier in Britain. It is backed by sand dunes and a Local Nature Reserve.
What to do
Ainsdale Beach is a bit of a haven for extreme kite-based activities. The low tides and vast expanse of sand make this a popular place for beach sports of all kinds, including land-based traction kiting and buggying., as well at kite surfing out at sea. The use of a power kite in the Kite Zone requires a permit.
When the RNLI beach lifeguards are on duty in the summer, the bathing area is marked between red/yellow flags.
A short walk away is the village of Ainsdale which has a boating lake and varied shopping and eating places. Ainsdale is also on the Sefton coastal path.
Species
Habitat
Environmental designation
Local Nature Reserve (LNR)