Visitors at South Walney Wading Bird Festival get creative
A great image of a turnstone - a wading bird that can be found flipping over stones on our gravel beaches - was captured by Keith Grafton at the Walney Wader Festival recently. It brought him first prize in the photography competition, one of the highlights of the two-day festival at South Walney Nature Reserve.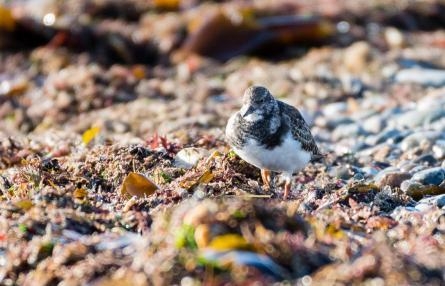 Keith, who is from Ulverston, won of a pair of Opticron binoculars after his photo was judged the best by Cumbrian photographer Tiree Dawson. Keith is a keen amateur photographer who has been visiting South Walney Nature Reserve regularly for over 40 years and tries to go five or six times a year. He said: "The waders were quite hard to photograph this weekend due to the wind. Once we spotted the turnstone, it was a bit easier as they seem more tolerant of people, but they are hard to find as they blend in perfectly."
The children's painting competition was won by 6-year-old Henry Blood who, according to his mum, loves wildlife, so he was thrilled to win! He did a great painting of oystercatchers (far right) and 8-year-old Allan Summer was runner up with his wonderful painting of a ringed plover.
The first-ever Walney Wader Festival was a great success, with nearly 200 people attending over the weekend. The wildlife-themed walks, talks and workshops focused on wading birds but visitors also found out about the reserve's successful colony of grey seals. Event organiser, Hayden Hurst, who is a Trainee Marine & Coastal Conservation Officer with Cumbria Wildlife Trust, said:
It was great to see so many people this weekend, despite the artic temperatures! We really enjoyed showing them the amazing winter wildlife found on our coastal reserves and we hope we can repeat the event in the future