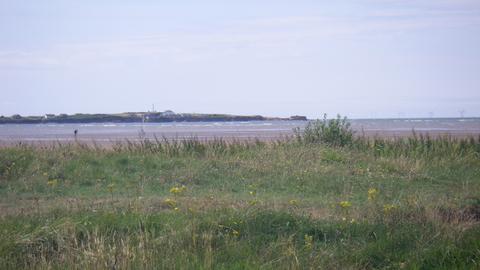 The Hilbre Islands are a group of three islands at the mouth of the estuary of the River Dee. Hilbre is the largest of the three islands that you can see from the shore. There's a Bird Observatory but no other facilities on the island, which can be walked to at low tide.
Know before you go
Walking trails
It's roughly a 2 mile walk across the sands to the islands and takes roughly an hour. Don't forget, there are no overnight stays on the island, plan your return and allow yourself plenty of walking time for your return journey back to West Kirby.
Access
Check the tide times for access to the islands
Dogs
On a lead
Dogs are allowed but must be kept on a short lead at all times due to ground nesting birds and feeding and roosting wintering birds
When to visit
Opening times
All year round
Best time to visit
June to September
About the reserve
What makes Hilbre so special?
Join the many visitors too Hilbre Island who enjoy the wonderful walk across the sands to the unoccupied islands. Seals are present on the island all year round but numbers are highest in the summer. With patience you should see seals swimming around the island or hauled out on the sandbanks in the distance.
Spot oystercatchers, the purple sandpiper, curlew, shelduck, brent goose, redshank, dunlin and knot. Hilbre is one of the best sites in the country to see Leach's storm petrel, as well as gatherings of sandwich, common and little terns, gannets, Manx shearwaters, little gulls and all 4 species of skuas. Other regular visitors are meadow pipits, willow warblers, swallows, linnets, mallard, skylark, pied wagtail, carrion crow and wheatears.
Foxes and hedgehogs are sometimes seen walking over the shore, and field voles live in the grassland.
Land plants include sea thrift, yellow birdsfoot trefoil, sea spurrey, buckshorn plantain, white sea campion, and centaury. Ragwort provides food for the striped caterpillars of cinnabar moth. There are many other butterflies, such as migrating painted ladies. Hilbre's specialities are the sea spleenwort, growing on sheltered cliff faces, and a sub species of rock sea lavender found in only a few other places in Europe.
What to do
Walk over to Hilbre Island, taking note of the tide times, for great views across the Dee Estuary and to spot wildlife. If you go rockpooling, you will find all the usual suspects, including red beadlet anemones, dog whelks and winkles, hermit crabs, mussels and barnacles, shrimps and prawns. Sabellaria reef worms build grey crusts on the western shores. Gobies live in the pools and you may find small plaice, dab and flounder in larger areas of water.
Habitat
Environmental designation
Local Nature Reserve (LNR)
Ramsar
Site of Special Scientific Interest (SSSI)
SPA