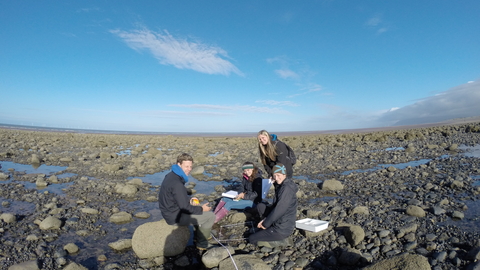 Earnse Bay (also known as 'West Shore') is a sand and shingle beach located along the western side of Walney Island near Barrow-in-Furness. The beach offers panoramic views of the Irish Sea, the Isle of Man and the Lake District mountains, with windfarms in the foreground.
Know before you go
Parking information
Plenty of free parking close to beach
Access
Easy access to the beach from the carpark 
Dogs
Under effective control
Restrictions may apply (usually from Easter until the end of Summer)
When to visit
Opening times
Open all year round
Best time to visit
All your round
About the reserve
What makes Earnse Bay so special?
In Spring eider ducks arrive at their most southerly breeding site at South Walney,  orchids bloom at Sandscale Haws and thrift and sea campion come into flower. In summer, look out for flowering plants adapted to sunny and salty seaside habitats, like Walney geranium which is found nowhere else in the world. In the autumn you will see wonderful colourful displays of deciduous trees like oak, ask and sycamore in Millwood and Abbots Wood and you may spot flocks of migratory curlew, spotted redshank, redstart and pink-footed geese. Winter inhabitants are predominantly waders and wildfowl.
Spot grey seals, which have a haul out and pupping site on the southernmost edge of Walney. The island is also important for birds such as the oystercatcher, shelduck, mallard, moorhen and coot, and provides nesting territories for many lesser black-backed and Herring gulls. 
What to do
Why not come along for a Walk, partake in some Windsurfing and Kitesurfing or do some Rockpooling here at the beach?
Habitat